31/07/2016: RCSI RSS summer students. Thanks for all the hard work Sian Won Tan and Candice Fraser
.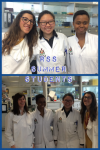 03/06/2016: Dr. Ní Chonghaile Invited to present at the International Cell Death Society Meeting
01/06/2016: Dr. Ní Chonghaile is awarded SFI-HRB-Wellcome Trust Seed Award in Science: https://wellcome.ac.uk/what-we-do/directories/seed-awards-science-people-funded
05/04/2016: Transition year student Orla visiting the lab from Clonakility Sacred Heart Secondary School.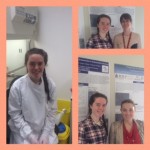 01/04/2016: Louise Walsh wins best elevator pitch at BREAST-PREDICT meeting.
https://twitter.com/BREAST_PREDICT/status/715890567721447428
16/03/2016: Review article published in Expert Review in Molecular Diagnostics:
L Walsh, WM Gallaher, DP O'Connor, T Ní Chonghaile. " Diagnostic and therapeutic implications of histone epigenetic modulators in breast cancer" (2016) Expert Review of Molecular Diagnostics 16 (5), 541-551
26/02/2016: Louise Walsh is selected for an oral presentation at the Irish Association of Cancer Research 2016 meeting.
01/12/2015: Louise Walsh is awarded a travel scholarship to attend the European Association of Cancer Research conference entitled: "A Matter of Life or Death: Mechanisms and Relevance of Cell Death for Cancer Biology and Treatment"