Associate Professor
Department of Physiology and Medical Physics
Tel:+353 (01) 4028579
Email: tnichonghaile@rcsi.ie
See Target Therapeutics in Cancer website for more information of Triona's research and updates
Dr. Tríona Ní Chonghaile joined the Royal College of Surgeons in Ireland, as a Research Lecturer in 2015. She started her scientific career with a first class honours degree in Biomedical Science from the National University of Ireland, Galway (NUIG). She then went on to complete her PhD in Biochemistry (NUIG) in 2008, studying the role of BCL-2 family members in endoplasmic reticulum stress. Her interest in the BCL-2 family members led her to a clinically relevant post-doctoral fellowship at the Dana-Farber Cancer Institute/Harvard Medical School with Prof. Anthony Letai. There she received a Multiple Myeloma Research Fellowship to develop novel tools for personalised medicine. During her postdoc she was involved in numerous collaborative multi-disciplinary projects and published first-author papers in high-impact journals, including Science and Cancer Discovery.
In 2014, she returned to Ireland and joined the laboratory of Prof. William Gallagher at University College Dublin, as a Research Fellow. While there she received the European Association of Cancer Research Senior Young Scientist Award (2014) and the prestigious L'Oréal-UNESCO For Women in Science Award (2015).
The main focus of Dr. Ní Chonghaile's research is in the area of understanding why are certain cancers sensitive to chemotherapy, while others are resistant and how best to treat resistant cancers using novel drug discovery approaches. Her main research interests are mitochondrial apoptosis, epigenetic regulation of apoptosis and hematological malignancies.
http://www.smartfutures.ie/who-works-stem/tr%C3%ADona-n%C3%AD-chonghaile-star-research-lecturer-royal-college-surgeons-ireland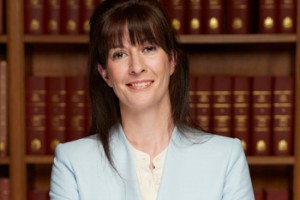 See also a TG4 Documentary of Triona: where she discusses her research as Gaelige
https://www.tg4.ie/en/player/play/?pid=6329408186112&title=Biseach%20%C3%B3n%20Ailse&series=Biseach%20%C3%B3n%20Ailse&genre=Faisneis&pcode=665244