Transition Year students experience life as scientists on the RCSI MiniScience programme 2018
08 February 2018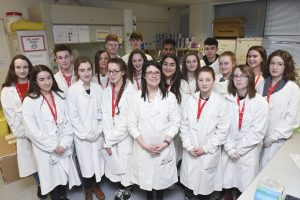 Twenty transition year students from Dublin and its surrounding areas took part in in the MiniScience TY Programme. This programme is led and co-ordinated by Dr Helena Bonner in the Department of Physiology and Medical Physics at RCSI in conjunction with the the Centre for Systems Medicine, based at RCSI.
During the three-day programme that finished on Wednesday, 7 February, students had the opportunity to experience life as a scientist. They learned about ageing of the human brain, epilepsy, as well as visualising neuronal and cancer cells. They also had the opportunity extract their own DNA and attended presentations on the impact of science in society as well as a workshop on communication skills. The programme concluded with a tour of the campus, a talk on career options in STEM as well as a presentation on the importance of collaboration in scientific research.
Speaking about the programme, Professor Jochen Prehn, Director of the Centre for Systems Medicine, RCSI said, "I am delighted to welcome the students to RCSI for this programme. I hope from the experience of the past three days that that the students learned a lot and will perhaps consider career in science".
Thanks to all the researchers in the department of Physiology and Medical Physics for volunteering their time to this programme and hence making it possible. Ms Luise Halang, Ms Aisling O' Brien, Dr Franziska Walter, Dr Cristina Ruedell Reschke, Dr Brona Murphy, Prof Kevin Mc Guigan, Dr Irene Llorente-Folch, Dr Orla Watters, Ms Orna Bacon, Dr Catriona Dowling, Mr Pete O' Donovan, Dr Gary Brennan, Dr Niamh Connolly, Mr Frank Donegan and Dr Isabela Aparicio.
please click here for pics of the three days