The Intra-Vital Imaging Core funded by the NBIPI and SFI is overseen and operated by Dr Heiko Duessmann, Director of Molecular Imaging. Access is regulated according to the NBIPI access policy.
Zeiss LSM 710 NLO Multiphoton Microscope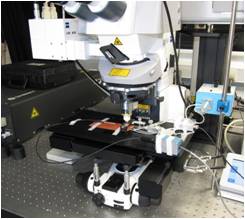 Purpose of this equipment:Imaging with sub cellular resolution inside living tissue, and small animal in vivo studies, spectral imaging, 3D imaging
Information: Upright microscope, stage adjustable with heating blanket, fitted with anasthesia, laser lines: 405, 458, 488, 514, 561, 594, 633 nm and the tunable IR laser for 2 photon excitation.
External users costs: Please contact the research staff to analyse your requirements, you will receive a quote in return.
I V I S Whole Body Imaging System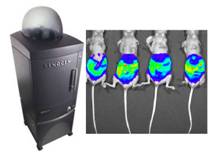 Purpose of this equipment:
IVIS whole body imaging system allows imaging of fluorescent-labelled or bioluminescent molecules and cells, in particular luciferase-expressing tumours or gene expression in transgenic mice with luciferase reporters.
For enquiries about the I V I S systems please contact operator Liam Shiels.