9 January 2015
Past pupil Niamh Connolly visited the school to talk to senior students about her research and career options in Science and Bio-Medical Engineering. Niamh, who did her Leaving Cert in the Bower in 2000, is a PhD Scholar in the Centre for Systems Medicine at the Royal College of Surgeons in Dublin where she is currently involved in studies of cell death in excitotoxicity and stroke. After a very lively and interesting presentation, Niamh was inundated with questions from science buffs about her career choice and the wide range of options arising from a basic science degree.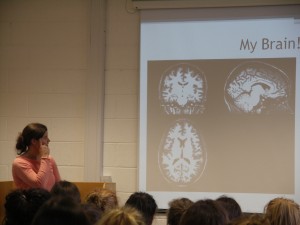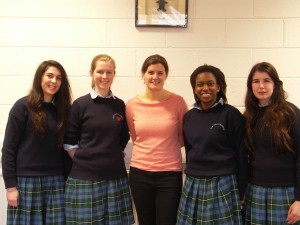 September 2015
AngioTox fellow Dr Alice O'Farrell (pictured above) hosted a visit at RCSI for 5th year students from St Mary's school in Baldoyle. Dr O'Farrell presented a talk focusing on her background and route into research science, information on some aspects of the AngioTox project and an introduction to non-invasive imaging and its positive role in preclinical imaging.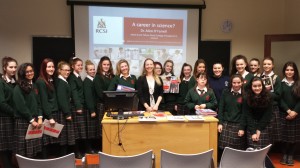 October 2015
Marie Curie Fellow Dr Ian Miller (pictured below) also hosted a visit from 5th & 6th year students of a local Dublin secondary school to the RCSI. Dr Miller presented a talk about life as a Research Scientist and explaining the importance of research and science.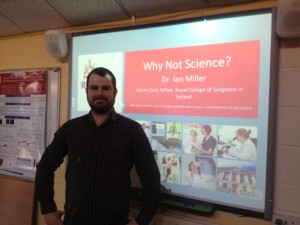 13th of November 2015
Dr. Helena Bonner presents a talk entitled 'what happens to the brain as we age' to TY students in Magh Ene College Bundoran, Co. Donegal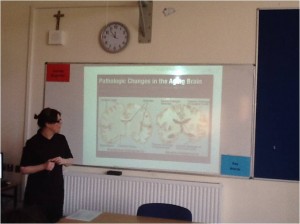 15th of December 2015
 5th year students from Luttrelstown College come in to have a look at RCSI and visit the research laboratories in the Centre for Systems Medicine. Frank Donegan, the head porter from RCSI gave the students a tour of RCSI and then they went onto the laboratories in the CSM where three researchers, Dr. Karen Coughlan, Dr. Claire Mooney and Dr. Ian Miller, gave the students an insight into their research and why how they became scientists.