Triona has a PhD Position available to work in her lab and in the lab of Dr Darren Griffith in RCSI
During the project the scholar will gain skills in state-of-the-art techniques including global proteomic analysis and super-resolution imaging along with a series of molecular biology techniques.
This molecular biology project is suited to a highly ambitious, driven student with a research interest in drug target identification, proteomics and cell death. For more information on applying, see the link below.
https://www.rcsi.com/dublin/research-and-innovation/research-careers/available-research-projects/identification-of-platinum-binding-proteins
Work by Dr. Louise Walsh and Dr. Kathyrn Haley on Invasive Lobular Carcinoma was published in Clinical Cancer Research. This project was a collaboration with Prof. Darran O'Connor RCSI and Prof. William Gallagher in UCD and was funded by BreastCancerNow and BREAST-PREDICT/Irish Cancer Society
03/10/17: Dr. Catríona Dowling receives an Irish Research Council postdoctoral fellowship to work on non-small cell lung cancer. Well done!
284 Irish-based researchers awarded €22m by Irish Research Council
15/08/17: Congrats to PhD student Alessandra DiGrande on EACR travel grant.
Alessandra attained a grant to travel to the lab of Professor Pieter Van Vlierberghe in Ghent Univeristy.
09/06/2017: PhD student Alessandra DiGrande wins best poster prize at BCNI.
The symposium was held in the Trinity Translational Medicine Institute at St. James's Hospital.The prize was  Best Poster for the Blood cancer network Meeting and the title is "Determining the anti-apoptotic BCL-2 family dependency of T-cell acute lymphoblastic leukaemia in distinct microenvironments"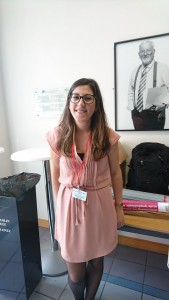 1/12/2017: Dr. Ní Chonghaile in collaboration with Dr. O'Connor, MCT,  are awarded a Breast Cancer Now project grant
The aim of the project is to investigate the role of bromodomain proteins in invasive lobular carcinoma.
31/07/2016: RCSI RSS summer students.
Thanks for all the hard work Sian Won Tan and Candice Fraser
.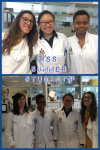 03/06/2016: Dr. Ní Chonghaile Invited to present at the International Cell Death Society Meeting in Cork University
01/06/2016: Dr. Ní Chonghaile is awarded SFI-HRB-Wellcome Trust Seed Award in Science: https://wellcome.ac.uk/what-we-do/directories/seed-awards-science-people-funded
05/04/2016: Transition year student Orla visiting the lab from Clonakility Sacred Heart Secondary School.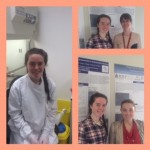 01/04/2016: Louise Walsh wins best elevator pitch at BREAST-PREDICT meeting.
https://twitter.com/BREAST_PREDICT/status/715890567721447428
16/03/2016: Review article published in Expert Review in Molecular Diagnostics:
L Walsh, WM Gallaher, DP O'Connor, T Ní Chonghaile. " Diagnostic and therapeutic implications of histone epigenetic modulators in breast cancer" (2016) Expert Review of Molecular Diagnostics 16 (5), 541-551
26/02/2016: Louise Walsh is selected for an oral presentation at the Irish Association of Cancer Research 2016 meeting.
01/12/2015: Louise Walsh is awarded a travel scholarship to attend the European Association of Cancer Research conference entitled: "A Matter of Life or Death: Mechanisms and Relevance of Cell Death for Cancer Biology and Treatment"