It has been a busy few months in Dr Murphy's group with three new joiners, Viktorija Juric, Claire Fitzgerald and Haleema Azam. Viktorija joins the group as a PhD student of the GLIOTRAIN consortium. Viktorija will be investigating the APOPTO-CELL modelling environment as a superior predictor of treatment responsiveness in newly diagnosed and recurrent GBM patients. Claire, a PhD student and Haleema, a research assistant, are both working on a grant that Dr Murphy was recently awarded from the National Children's Research Centre. Both Claire and Haleema will be working fulltime on this project that aims to improve and personalise chemotherapy treatment options for paediatric brain tumour patients.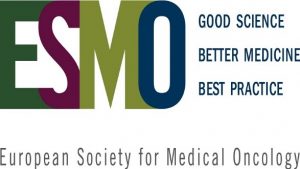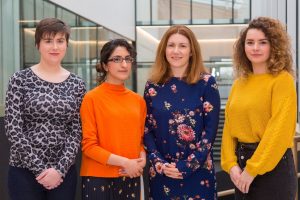 (L-R) Claire Fitzgerald, Haleema Azam, Dr Brona Murphy, Viktorija Juric.
Later in the month, Dr Murphy will travel to Barcelona to attend the ESMO-sponsored Symposium on Signalling Pathways in Cancer. The focus of the symposium is cyclin-dependent kinases. Dr Murphy was awarded a travel grant to attend and looks forward to discussing her recent results on the clinical applicability of CDK inhibitors in GBM. Dr Janis Noonan who has now left the group undertook this work. We wish Janis the very best in new career as a scientific writer.