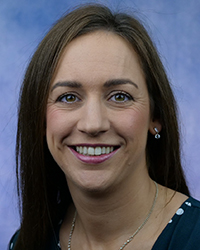 Dr. Orla Watters is an Honorary lecturer in the Dept. of Physiology & Medical Physics. She received her Joint Honours Degree in Pharmacology & Physiology in 2007 from University College Dublin (UCD), and subsequently was awarded a PhD in Neuroscience in 2011. Her PhD focused on the preconditioning effects of the Fractalkine (CX3CL1), Tumour Necrosis Factor alpha, and Glutamate in an in vitro model of stroke.  She joined the laboratory of Prof. Jochen Prehn in 2012 as a Post-Doctoral researcher focusing on the effects of localised energetic stress on mitochondrial transport in cortical axons. She was appointed an Honorary lecturer at RCSI in 2017 and completed a Postgraduate Diploma in Health Professions Education in 2018 to complement this role.
Dr. Watters is involved in numerous collaborations within and outside RCSI including CeBioND and FutureNeuro, investigating the impairments of mitochondrial bioenergetics and dynamics during neurodegeneration. She is currently involved in the establishment of the FutureNeuro iPSC facility, which will generate neuronal and glial cells from induced-Pluripotent Stem cells (iPSCs) derived from patients with neurodegenerative disorders.
Dr. Watters is also part of the RCSI team involved in the PD-MitoQUANT (www.pdmitoquant.eu) project where she is investigating mitochondrial dysfunction induced by alpha-synuclein toxicity in neurons, a pathological hallmark of Parkinsons Disease.
https://www.pdmitoquant.eu/partners/rcsi/