Investigators > Heinrich Huber, please also see Team Members and Research
Combining mathematical, computational, engineering and biochemistry to understand deregulation of apoptosis and proliferation in human pathologies
 Acting as a hot-spot for interdisciplinary research 
As a systems biologist, I am committed to understand the emergent features of molecular, cellular and tissue systems, i.e. why is the sum more than its parts. I therefore use mathematical, computational and methods from control engineering and combine it with techniques from biochemistry, and molecular and in vivo imaging.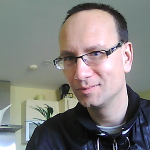 Heinrich Huber (*1970) is Adjunct Senior Lecturer. He graduated in technical physics in 1993 and received his PhD in Computational Nuclear Physics in 1995 with destinction. He worked as a research fellow at the Institute for Nuclear Physics in Vienna from 1993 till mid 1997. During this period, he was also a visiting fellow at the universities of Melbourne (Australia) and Pretoria (South Africa). After a summer internship at Mc Kinsey & Co, he joined Siemens Austria in December 1997 where he worked as a systems engineer, project manager and group leader in telecom engineering in Vienna, Budapest and Munich.
In 2004 he was seconded from Siemens to RCSI as a software engineer and project manager in Systems Biology and Bioinformatics. He has been entitled as Senior Research Fellow at RCSI from July 2008 and worked as a SFI PI for Theoretical Systems Biology since 2009.
His research interest focuses on:
Theoretical Systems Biology Approaches in Apoptosis and Neuroscience (spatial and temporal analyses of signalling pathways)
Systems Tools for Patient stratification and personalised medicine
Biophysical approaches to protein structure prediction (Together with CEITEC, Brno, Czech republic)
Workflow and data processing systems (e.g. automated microscopy, in collaboration with Siemens)
Teaching: Modelling for Biomedical Researcher (Introductory Course Slides)