Prof. Jochen Prehn and fellow researchers of Centre for Systems Medicine and Centre for the Study of Neurological Disorders are participating in a Neuroscience meeting at RCSI.
Program can be downloaded here.
As May is European Month of the Brain, the aim of this event is to promote neuroscience among researchers within the 3U Partnership.
The early afternoon talks will be delivered by Professors Jochen Prehn, John Waddington, David Henshall, and David Cotter of RCSI, as well as a talk by Dr Stella Vlachou of DCU. Evening talks will be given by Dr Mary Clarke and Dr Hans-Georg Koenig of RCSI and Drs Andrew Coogan and Richard Roche of NUI Maynooth.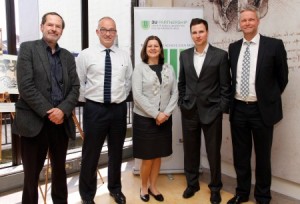 The lectures will focus on topics including the molecular basis of neurological and psychiatric diseases, emerging drug targets, as well as basic research into brain function. The evening guest lecture will be delivered by Prof Kevin Mitchell of Trinity College Dublin at 6pm. Undergraduate students and researchers from other institutions are also welcome to attend the meeting.
Prof David Henshall, Associate Professor, Department of Physiology and Medical Physics, RCSI, and organiser of the seminar said, 'It is increasingly important to promote synergy and exploit shared strengths in the field of neuroscience and this meeting is a great opportunity to do with our 3U partners. The range of topics in today's meeting will be very interesting and hopefully stimulate discussion and collaboration in shared areas of study.'
Date: May 21st 2013, RCSI, Cheyne Lecture Theatre at 2pm.
updated: Impressions of the event can be seen at the website of RCSI.